Spring has finally arrived and I could not be happier, in spite of the straight face! After months spent in hibernation through an especially harsh winter, I've been emerging from the apartment and doing my hair and make up on a regular basis again, hence the selfie. I've just finished my second last year at uni and booked a trip to the UK in June so things are going well.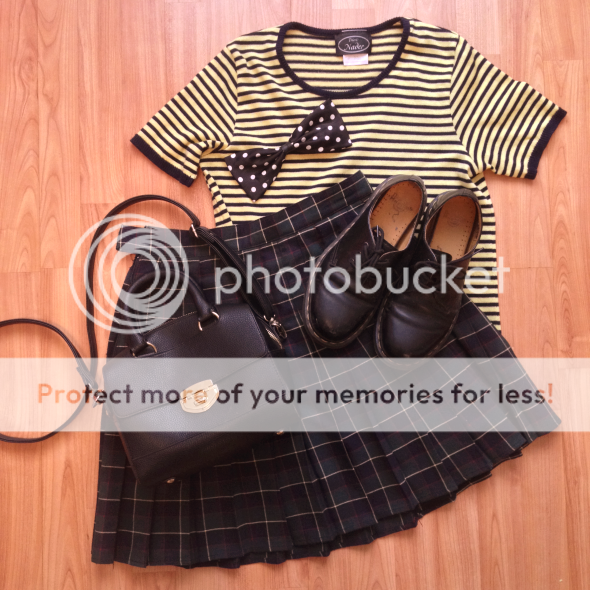 What my recent outfits lack in seasonal pastel colors, they make up for in their multiplicity of patterns. I'm really into plaid with stripes at the moment and polka dots (as previously mentioned) with everything, all the time, forever, obv. My skirt, top, and bow are vintage, shoes are Dr. Martens and bag is from Top Shop.
I don't celebrate Easter but do condone any excuse to eat lots of chocolate, not that I needed one. Malt eggs are some of my favorites and they're nice to look at too!
My mom brought over some lovely tulips a few weeks ago, and their cheerful presence helped me pull through the last days of winter. This effect was much needed as it was still snowing earlier this week! The print above our fireplace is a section of Klimt's Mother and Child, which is one of my favorite paintings. I saw it at Tate Liverpool years ago and have been in love ever since.
This adorable chair cover was a dollar store find that pleases me more than any innate object should. While still partial to feline forms, I have become very fond of rabbit motifs lately. I've been working in a little hat shop for almost a year now and the boater is one of my favorite styles, even though it doesn't suite me very well and spends more time on my wall than on my head.


I'd been searching for the perfect pair of silver brogues to no avail for a long time before finding these beauties on sale at the Gap. They are super shiny and glitter when the sun hits them!